When:
September 15, 2020 @ 11:30 am – 1:00 pm
2020-09-15T11:30:00-05:00
2020-09-15T13:00:00-05:00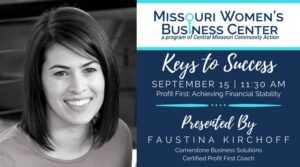 How has your business fared in the recent pandemic? Were you caught off guard financially? Stressed out because of your cash position? Why is it that nobody ever educates entrepreneurs on the proper way to set up your business for financial success? You see courses, books, blogs, and services for how to market and sell, how to build the culture, and how to become a great leader but the resources are limited when it comes to educating entrepreneurs on how to run a fiscally healthy business. It's time for that to change.
Using the theory from the book, Profit First, we will be teaching you how to achieve financial stability in your business now. This is applicable to new business owners just starting out or thinking about starting out, business owners who need more financial clarity, as well as business owners who need financial help. All throughout your life you've been taught that Income – Expenses = Profit. What if a simple mindset shift and a new set of tools could provide the financial freedom you've been searching for? Come find out how to set your business up for success.
Zoom:
https://us02web.zoom.us/j/84635653479?pwd=RHcxOExQemdVaUl2a1VVcWIwN3BWUT09
Meeting ID: 846 3565 3479
Passcode: 223631