When:
September 1, 2020 @ 9:30 am – 10:30 am
2020-09-01T09:30:00-05:00
2020-09-01T10:30:00-05:00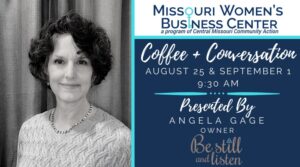 Join us on Zoom August 25th & September 1st for a special Coffee + Conversation hosted by Angela Gage of Angela Marie Gage – Be Still and Listen!
The Enneagram (Ennea=9, Gram=Diagram) is simply an archetypal map for the soul in self-discovery and personal growth based on 9 basic personality types. The gift of the Enneagram is that through self-discovery, one can create and sustain meaningful and lasting relationships with our colleagues and our customers. The power of the Enneagram is in its ability to harness and transform self-limiting behaviors into personal empowerment for more self-compassion and empathy, the soft skills necessary for success!
*Pre-requisite: Please come prepared knowing your Enneagram Type number or at least 2 Enneagram type numbers that you most resonate with. You will find multiple free Enneagram assessments online. Angela recommends Dr. Jerome Wagner's WEPSS test www.wepss.com, at $10.
Zoom information:
https://us02web.zoom.us/j/357250428
Meeting ID: 357 250 428
One tap mobile
+13017158592,,357250428# US (Germantown)
+13126266799,,357250428# US (Chicago)